15-year-old shot and killed by police at Torrey Pines High School
SAN DIEGO (KUSI) — Police shot and killed a 15-year-old Torrey Pines High School student Saturday in the school's parking lot after the teen pulled a gun and pointed it at officers.
Officers were dispatched at 3:27 a.m. to 3710 Del Mar Heights Road, said SDPD acting homicide Capt. Mike Holden. Officers were
called to the school to perform a welfare check on a minor, and when they arrived they found a 15-year-old boy in the parking lot.
Related Link: Crisis response counselors to visit Torrey Pines High School following death of student in officer involved shooting
The boy allegedly produced a gun, prompting two officers to open fire on him. Holden said the gunfire struck the teenager "a number of times." Both officers immediately began rendering first aid and summoned paramedics. The teen was pronounced dead a short time later at Scripps Memorial Hospital La Jolla. The officers involved were not hurt.
Students were scheduled to take SAT tests just hours after the shooting took place.
The preliminary investigation indicates the original reporting party was in fact the decedent. The handgun used by the male has been identified as a semi-automatic BB air pistol, said Holden in a press release.
The name of the victim has not been released and police say that they will not be releasing it due to the victims age. Police said that the family has been notified.
The involved officers are a twenty eight year veteran and a four year veteran of the San Diego Police Department.
The teen lived in the neighborhood and was a student of Torrey Pines High School said San Dieguito Union High School District Superintendent Eric Dill, who confirmed in a letter addressed to SDUHSD families.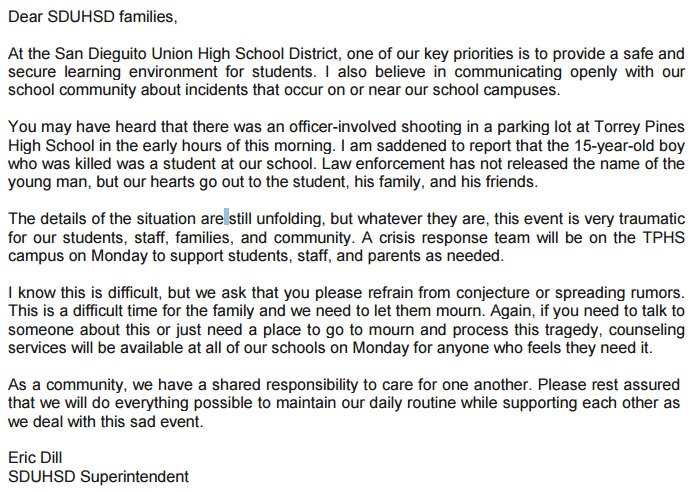 This is a developing story. Check back for updates.