Las Vegas shooting leaves at least 59 dead, including gunman, several hundred injured in deadliest attack in US history
LAS VEGAS (KUSI) — At least 59 people were killed, including the gunman, and several hundred were injured when they were hit with bullets from the 32nd floor of a Las Vegas hotel onto concert-goers watching headliner Jason Aldean perform Sunday night.
The country music star was performing for 22,000 people at an outdoor three-day music festival called Route 91 Harvest Festival when a gunman — identified as Stephen Craig Paddock, 64, of Mesquite Nevada — opened fire from a room at the Mandalay Bay Hotel and Casino room across from the concert.
More than 520 people were hospitalized and at least 58 were killed, including two unidentified off-duty Las Vegas Metro Police officers.
We are sadden to report that one of the deceased from Sunday night's shooting, was an off-duty #LVMPD police officer. #LVMPDnews

— LVMPD (@LVMPD) October 2, 2017
About 15 to 20 San Diego Police Department (SDPD) officers were at the weekend music festival, but all were okay, SDPD Chief Shelley Zimmerman said Monday. The department was working to gather an exact count of officers and identify who exactly was in attendance.
The Los Angeles Police Department said one of their off-duty officers was shot in the leg but was expected to recover. LA County Sheriff's officials said two off-duty employees were struck by gunfire. One was in critical condition and the other was stable.
Related Link: California law enforcement officers wounded in Las Vegas
An Orange County sheriff's deputy, a Bakersfield police officer and an Ontario police officer were among the more than 500 people injured Sunday.
Aldean was in the middle of a song when shots were fired rapidly over the crowd. The music paused momentarily and began again, before a second round of shots rang out, a witness told Associated Press. Video from the scene shows Aldean stopping his performance and running from the stage as concert-goers scattered.
The country star posted on Instagram, "Tonight has been beyond horrific. I still don't know what to say… My Thoughts and prayers go out to everyone involved tonight. It hurts my heart that this would happen to anyone who was just coming out to enjoy what should have been a fun night."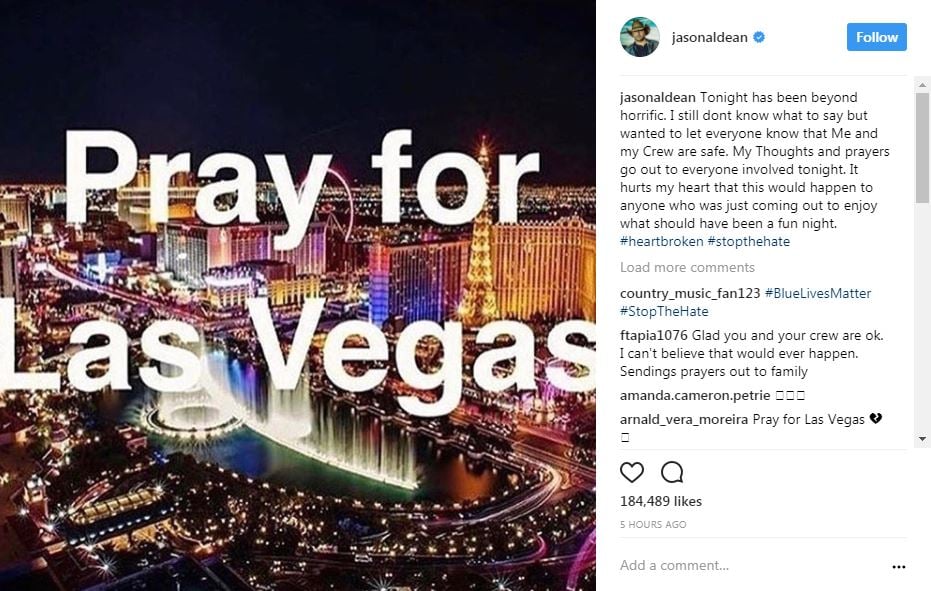 With several hundred people injured, hospital rooms were jammed with patients transported by ambulance and driven in cars. Those who were missing family or friends were asked to call 1-866-535-5654.
Nevada Gov. Brian Sandoval said at a news conference Monday he visited some of the injured at local hospitals and described the victims as feeling angry and confused. He called the act cowardly and despicable.
A SWAT team stormed the gunman's hotel, using explosives to get access inside, and found Paddock dead. Officers believe he killed himself. At least eight weapons, including many long rifles, were found in the hotel room. Clark County Sheriff Joseph Lombado said 18 additional firearms, explosives and several hundred rounds of ammo were found in the suspect's home.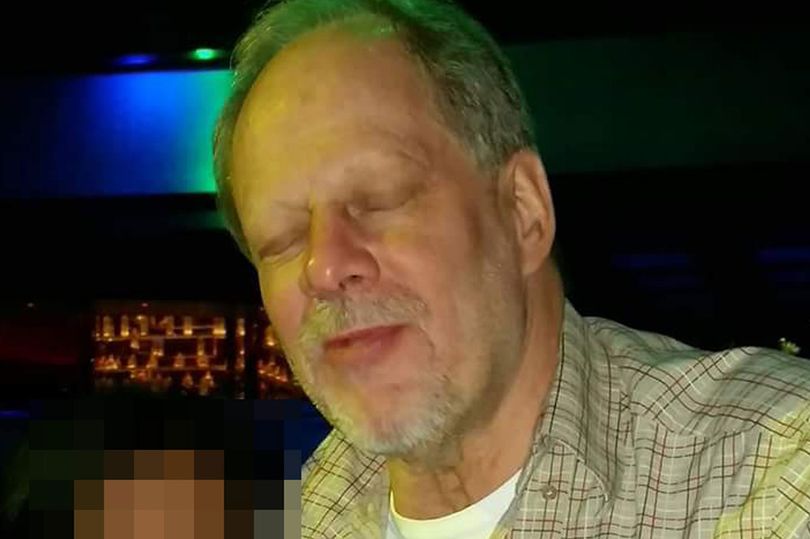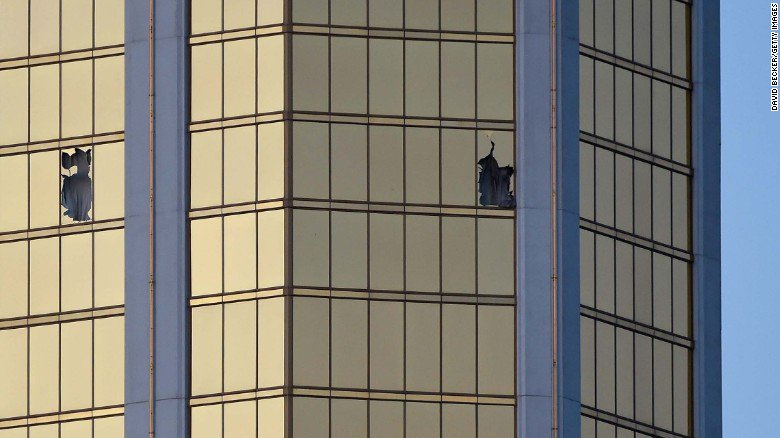 Left: Photo of 64-year-old Stephen Paddock of Mesquite, Nevada. Right: Windows shot out of a room at the Mandalay Bay hotel, where Paddock was believed to have rained bullets onto a crowd of concert-goers (Getty Images).
There was no stated motive for the attack, but officials with the U.S. Department of Homeland Security said they do not believe there is a threat to the United States at this time.
The Federal Bureau of Investigations said Monday they do not believe the attack had any link to terrorist groups, despite ISIS claiming responsibility for the shooting without any evidence. The gunman was described as a "lone wolf."
A woman previously considered a person-of-interest was found outside of the country at the time of the attack, police said. Marilou Danley, 62, was Paddock's roommate and was not believed to be involved.
@FBILasVegas is asking anyone with videos or photos from the 10/1/17 Las Vegas shooting to please call 1-800-CALLFBI (255-5324)

— FBI Las Vegas (@FBILasVegas) October 2, 2017
Paddock did not have any previous criminal history, according to police. His brother, Eric Paddock told reporters in Orlando, Florida his brother was "not a normal guy" and that he played high-stakes video poker. They were last in contact in September, Eric Paddock said.
Speaking from the White House Monday, President Donald Trump offered his support to the victims of the attack. He called the shooting an "act of pure evil" and said he would visit Las Vegas on Wednesday.
"I feel such great anger at the senseless murder of our fellow citizens, it is our love that binds us today and always will," Trump said.
Earlier in the day, the president tweeted his condolences:
My warmest condolences and sympathies to the victims and families of the terrible Las Vegas shooting. God bless you!

— Donald J. Trump (@realDonaldTrump) October 2, 2017
Previously, the deadliest mass shooting in U.S. history took place at a gay nightclub in Orlando in June 2016. In that attack, 49 people were killed.